October Ambassador known for helping patients, co-workers alike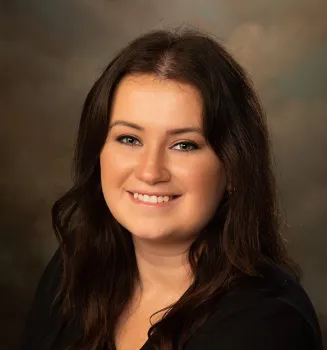 Carlea Stansberry, Pharmacy
Oct. 8, 2021 -- Carlea Stansberry finds satisfaction in helping others. Helping patients with their prescriptions. Helping co-workers through a project. Helping in whatever way she can.
It's why she was the choice to be Reid Health's October Ambassador.

Stansberry is the Epic Principal Trainer in Reid's Pharmacy Department. She joined Reid in 2014 as a pharmacy technician after going to vocational school.
"I always heard amazing things from family and friends about the help Reid provides for the community," Stansberry said. "I had the opportunity to apply for a position at the hospital, and I knew I had to do it. The thought of being a part of the Reid community excited me the most. I wanted to be able to help people in my own way with Reid."
Nominators cited Stansberry's helping nature as one of the reasons she would be a good pick for the Ambassador honor.
"She's always ready and willing to help anyone whenever they need it," one co-worker said. "She's always going above and beyond for patients, whether it's finding a solution to an insurance issue or finding them a coupon for their medication copay to ensure they're getting the best prices possible, without them even having to ask.
"Anytime I have a problem I can't figure out, she is my 'go to' person for those issues, and she finds a solution nearly every single time."
The Liberty, Ind., native still lives in the community with her husband, Dakota. Stansberry enjoys taking their three Dobermans -- Shadow, Rocco, and Akira -- for walks and to the dog park. She also loves to bake and is an assistant coach for the volleyball team at Talawanda High School in Oxford, Ohio.
"I played volleyball my entire life growing up, and I couldn't imagine not including volleyball in my adult life," Stansberry said. "Helping others succeed in their goals is one of my favorite things. I just started coaching a few months ago, but I enjoy it every opportunity I get."
Stansberry loves being able to help co-workers with their questions about various software systems, doing what she can to make their jobs a little easier.
"Carlea embodies all that we hope to have in a fellow employee," a co-worker said. "She is friendly, competent, and reliable. She handles every request with a 'Yes, I will get it done.' She can lead and lead by example. She doesn't shy away from a challenge or a difficult task."