Right
beside
you.
October Ambassador goes 'above and beyond' for her patients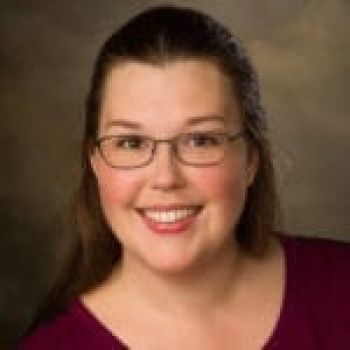 Meghan Stevic
October 12th 2018
The October Reid Health Ambassador is known by coworkers and patients for a contagious smile and for being a great listener.
Meghan Stevic Certified Respiratory Therapist has worked in Respiratory Therapy for 12 years. "She has a lot of knowledge and is passionate about educating her patients" wrote one nominator. Another said her attitude and outlook "is something we should all strive for. Whether it be a warm blanket a fresh cup of coffee or just a smiling face willing to listen she consistently goes above and beyond for our patients."
Stevic is a 2006 graduate of Kettering College in Ohio. She learned about Reid Health in a presentation to her class by Human Resources staff – and really liked what she heard. "The CARE standards (Courtesy Attitude Respect and Enthusiasm) stood out."
Stevic lives in Camden Ohio with husband Ben and their four children – Jack 10 Kayley 8 Abigail 7 and Jason almost 5. She grew up in a military family moving often until her parents retired at Wright Patterson in Dayton. At first she planned to major in marketing in college before switching to respiratory therapy. "I wanted to make a difference in people's lives."
In her time away from work her family is active in their church Mt. Zion Baptist in South Lebanon Ohio. "Church is pretty much what we do" she said noting that she and her husband help with the youth group among other activities.
She loves the Reid Health culture and appreciates interacting with patients. "I like being able to improve their quality of life and help them breath better. My coworkers are awesome and I love my job. I like the standard of care we bring to our patients."