Right
beside
you.
October Ambassador a calm influence on patients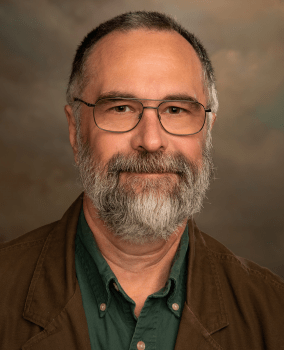 Paul Harman
The October Reid Health Ambassador has a gift for putting people to sleep - in the Reid Sleep Disorders Center.
Paul Harman, Registered Polysomnography Technologist with the sleep lab, is known for his ability to help reassure anxious patients who are admitted to the sleep lab and monitored during the night. "It can be uncomfortable to come into an unfamiliar place and fall asleep," said one of his nominators. "Paul puts the patients at ease with his calm demeanor and education with what they can expect through the night."

Another nominator said "He is kind, thoughtful, skilled, competent and reassuring while conducting sleep studies."

Other nominators also cited his willingness to help new team members with orientation and training in sleep medicine. A member of the Reid team for almost 44 years, Harmon is a native of Richmond, where he still lives with wife, Jacky. He has three sons, three grandsons and two granddaughters, ranging in age from one to 17.

He came to Reid in 1975, previously working at Wayne Works building school buses. He has worked third shift most the time since. "I can think of at least 100 reasons why Paul should be chosen as Ambassador," said another nominator. "But one thing that is consistent is that he is the epitome of the CARE standards (Courtesy, Attitude, Respect, Enthusiasm) and what Reid stands for."

He began as a respiratory therapist, spending 24 years doing that before joining the sleep lab team. "In respiratory, you see the joy of babies coming into the world, to witnessing the most devastating moments of a person's life," he said. Harman said he's always enjoyed working in the medical field. "It is in this atmosphere that I thrive. I cannot imagine my life without Reid. It has given me the means to provide well for my family and contributed to my overall growth as a human being."