November Ambassador steps in to help coworkers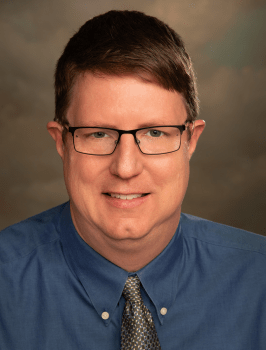 Darren Roberts
The November Reid Health Ambassador is known for going the extra mile for his coworkers, especially due to the impact of the COVID-19 pandemic on his department.
Darren Roberts, Patient Financial Services, stayed in the office when many coworkers were temporarily moved home, gladly taking on extra duties not directly related to his job as an Insurance Follow-up Specialist, such as faxing, printing, mailing and copying for others.

"Darren goes above and beyond to make sure our department is running smoothly," wrote one nominator. "He never complains and is always willing to help." Others described him as "super kind" and "a gift to the department" because of his willingness to help.

Roberts has worked in Patient Financial Services since joining Reid Health three years ago. He has a degree from Ball State in Music Education and also a master's in School Administration from Miami University. Before joining Reid Health, he worked as a manager for Work One.

The Richmond native is married to Lucinda Roberts, who works for Centerville-Abington Schools. Their son, Miles, is in the 9th grade at Richmond Community Schools. Roberts is involved in Bible Study Fellowship and plays bass guitar on the Christ Presbyterian Church worship team. His hobbies include teaching himself guitar, listening to and learning about music, and learning about card magic and magicians.

He says he's thought of as being pretty quiet at work, but "once you get me talking in front of a group, it's hard to get me to stop talking."

He appreciates the culture at Reid Health. "I believe Reid genuinely cares about its employees as much as it cares about our community, which is what I really appreciate about it. My PFS coworkers are a truly great team to work with each day and deserve this award as much as, or more, than I do. Their contributions to Reid Health are more important than people realize."