No need to wait between COVID-19 and flu vaccinations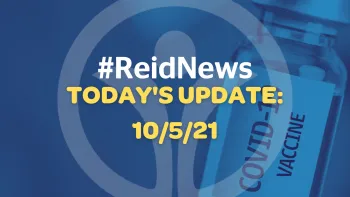 Oct. 5, 2021 -- Flu vaccination season has arrived with a bit of a twist this year.
With many people now eligible for a booster shot or third dose of the COVID-19 vaccine and a large number of others still needing to get their first jab, the question has come up as to whether there's a need to wait between getting the flu and COVID shots.
The good news is you don't have to wait. In fact, you can get them at the same visit if your vaccination site has both on hand (only the COVID-19 vaccine is offered at Reid's COVID vaccination clinics).
According to the U.S. Centers for Disease Control and Prevention (CDC), experience with other vaccines has shown the immune response generated and any possible side effects from vaccination are generally the same when given alone or with other vaccines.
Most routine medical procedures or screenings also can be performed before or after getting the COVID-19 vaccine, including routine blood work, dental procedures, CT scans, electrocardiograms, cardiac stress tests, colonoscopies, ultrasounds, and more.
If you are due for a mammogram and recently have been vaccinated for COVID-19, the CDC recommends asking your doctor how long you should wait to get your exam. As part of building immunity from the vaccine, some people can have swelling of the lymph nodes in their underarm near their injection site. That swelling could cause a false reading on a mammogram.
You can get both the flu shot and the COVID-19 vaccine at the same visit if your vaccination site has both on hand.
If you have questions about the timing of vaccinations and any medical procedures that might be coming up, ask your doctor or call Reid Health's COVID-19 hotline at (765) 965-4200. The hotline is available 8 a.m. to 8 p.m. seven days a week to help with scheduling a COVID test, receiving test results, and seeking clinical advice.
FREE vaccinations are available at a number of nearby locations. Indiana residents can find sites and sign up for an appointment by going to ourshot.in.gov. Ohio residents should use gettheshot.coronavirus.ohio.gov.
Today's COVID-19 stats
Patients in containment areas: 53
Number of those patients who are unvaccinated: 42 (79.2%)
COVID-19 patients in the ICU: 8
Number of those patients who are unvaccinated: 8 (100%)
COVID-19 patients on ventilators: 6
Number of those patients who are unvaccinated: 6 (100%)
Tests submitted since last update: 270
Lab-confirmed positives since last update: 20 (7.4% positivity rate)
Suspected COVID-19 admissions in the past 24 hours: 21
Unvaccinated, as defined by the CDC, includes anyone who either has not received a dose or has received only the first of a two-dose vaccine.
Reid Health serves an eight-county area, including Wayne, Randolph, Henry, Union, Fayette, and Franklin counties in Indiana and Darke and Preble counties in Ohio. The statistics above represent patients from throughout the service area.
Key reminders
You should never delay care. Previous surges have seen patients put off necessary care for emergent issues such as chest pain, stroke symptoms, appendicitis, and even symptoms of cancer. Delaying care can have life-altering consequences.
COVID-19 vaccines are FREE. They are safe. Make an informed decision by consulting sites such as the CDC and FDA.
Before you come to a Reid Health site to see a loved one or accompany them to an appointment, be sure to check our latest visitor policy and screening procedures.
Surgical masks are required in all Reid Health facilities. Cloth masks are not acceptable. Reid will provide you with a surgical mask upon entry if needed.
Safe Pathways to Care: Learn more about COVID-19 and vaccinations