Right
beside
you.
No flu yet at Reid Health – great time to get vaccine!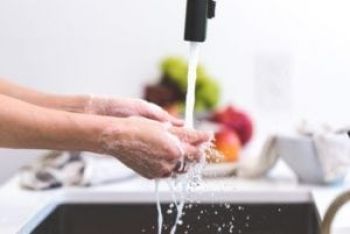 Besides the flu vaccine hand-washing is one of the best ways to prevent the spread of flu and other disease.
October 24th 2018
Influenza hasn't shown up yet at Reid Health – but now is the time to get a flu shot and try to keep it that way health system officials say.
"Besides all the important normal precautions like handwashing the annual flu vaccine is the best way to avoid getting sick" says Kim Schneider RN Infection Control with Reid Health. The health system is ramping up prevention this year including by offering some free flu vaccination clinics and mandating the flu vaccine for all team members able to safely have it.
"Reid Health and Reid Health Physician Associates recorded 1768 positive flu tests in the 2017-2018 flu season and we had 186 patients admitted because of flu" she said. "We want to do everything we can to bring those numbers down this flu season."
Meanwhile Schneider says besides the vaccine the following tips are tried and true to reduce chances for the flu:
Wash your hands often
Avoid close contact with anyone who is sick
Cover your coughs and sneezes
Avoid touching your eyes nose and mouth – this is how germs spread and get into your system
Clean and disinfect surfaces that could be contaminated such as grocery carts and gas pumps
Carry hand sanitizer and use it after touching things like door handles and counters
If you get sick limit contact with others. "The Centers for Disease Control recommends that you stay home for at least 24 hours after your fever is gone except to get medical care or for other necessities" Schneider says.
Also if the doctor prescribes antivirals be sure to take them. "Antiviral drugs can make illness milder and shorten the time you are sick. They may also prevent serious flu complications."
Schneider says it is too early to tell what to expect from the 2018-2019 season but notes that the flu is serious and results in thousands of deaths annually in the United States. National health officials do believe this year's vaccine will offer good protection she says.
If you show signs of the flu depending on severity consider a virtual urgent care visit using the Reid HealthNOW mobile app see your family physician or visit an urgent care to see if antiviral medication is appropriate.
Free flu vaccine clinics
While supplies last free flu shots are being offered Saturday Oct. 27 at Reid Urgent Care in Richmond and Reid Health Urgent Care – Connersville. Each location opens at 8 a.m.
(Watch video on proper handwashing HERE)