Newly sworn-in police officers bring Reid Health's total to 17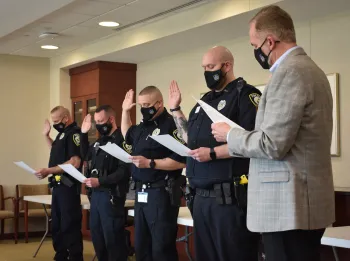 Reid Health President/CEO Craig Kinyon (right) swears in four new police officers (from left),
Scott Jackson, Cory Jenkins, Billy Terhaar,
and Scott Roberts.
April 13, 2021 -- A process that began more than a year ago is moving into its final phases now as another quartet of Reid Health security officers were sworn in as police officers Monday.
Officers Scott Jackson, Cory Jenkins, Scott Roberts, and Billy Terhaar took their oaths in front of family on the main Reid campus, joining the 13 others who have preceded them since the department's creation in February 2020.
The four will take part in the eight-week training course at the Indiana Law Enforcement Academy next month.
"All of the guys have done really well," said Randy Kolentus, Chief of Police for Reid Health. "It's no surprise they've been successful."
To complete the transition from a security force to a police department, another eight team members will need to be sworn in and sent off to the academy. Kolentus is hopeful that four of those will go in August.
In all, the makeover is running slightly ahead of the two-year timeframe that Kolentus originally estimated for completing the change.
"We're ahead of schedule. Hopefully, COVID volumes will stay low and we'll be able to finish yet this year," he said.
Reid began to transform its security team to a police department early last year, joining other health systems around the state. The move is intended to enhance the security and safety of those who use Reid services.
The change reflects the growth of the health system and the accompanying increase in the need for police assistance. When the intention to establish the department first was announced, Kolentus noted the Richmond Police Department responded to Reid calls almost 900 times in 2019.
The former Security Department has grown from nine officers in 2016 to more than 20 team members today as Reid's geographic footprint has increased and its number of staff has risen to some 3,400 people.
"It's always so nice to see the families come out to support our officers and help them celebrate," said Jennifer Ehlers, Reid Health Vice President/Chief Quality Officer. "I've very proud of this team. They provide outstanding service to our patients, their families, and our staff."

"We're ahead of schedule. Hopefully, COVID will stay down and we'll be able to finish yet this year." -- Randy Kolentus, Reid Health Chief of Police