National publication shines spotlight on Reid Health's Jeff Cook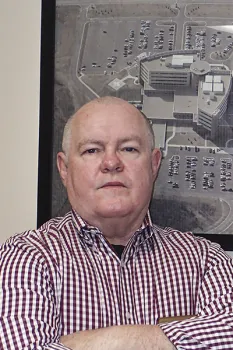 One of Reid Health's own is featured in a national publication.
Jeff Cook, Director of Engineering and Environmental Services, is the subject of an article in the latest edition of American Builders Quarterly.
The publication "is a network of executives that highlights leaders in every phase and facet of the built world," according to its website. "We provide a platform for modern leaders to share important stories and incredible achievements."
Cook said American Builders Quarterly reached out to him based on his activities with the American Society for Health Care Engineering and its Indiana chapter as well as his LinkedIn profile.
"I am very humbled that ABQ sought me out to do a story not about me but my teams," he said. "I also am very proud of the teams that I get to serve with. Engineering and Environmental Services are nothing short of superstars. What they do daily at all times and in all weather conditions is often missed.
"Like a Major League shortstop getting a hard line drive one-hopper and turning in midair to make the throw to first, we all think we can do that until we try. My teams make it happen every time."
Cook's praise goes beyond the team members he oversees, pointing to the vital work done throughout the Reid Health system over the past year as the pandemic has continued on.
"This is not just limited to Engineering and Environmental Services. It's the entire Reid team," he said. "We have worked this last year through COVID as a true team. Whatever, whenever there is a need, someone steps up to fill the gap."