Military service helped shape September Ambassador's values, strength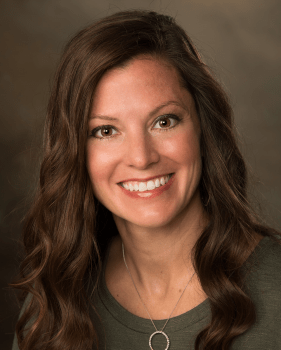 Allison Meyers
The September Reid Health Ambassador is known for her skill in caring for the most critically ill patients and remains positive and helpful even in tough situations, say her nominators.
"She is always ready to help her patients and coworkers, and does so with a smile," said one nominator. "Her calm demeanor, with vast knowledge and dedication to her role, has been instrumental in our success stories through the ongoing battle against COVID-19."

Allison Meyers, respiratory therapist, has been on the respiratory therapist team at Reid Health for 11 years. "Her patients always come first. And she is a team player," said another nominator.

Meyers said she decided to go into respiratory care because of "a great allied health teacher I had in college." She is a 2009 graduate of Sinclair Community College. She worked at Dayton Children's Hospital after college before joining the Reid Health team.

She served in the Ohio Army National Guard, spending 13 months in Iraq driving semis for transportation. "I attribute most of my values and strengths to my time in the service," she said.

The COVID-19 pandemic, which directly involves respiratory treatment, was a challenge because of how information is constantly new and changing. "Reid has exceeded its role in supporting us and in keeping communication open. This has led me to feel confident we are at our best and prepared for the future."

She appreciates being part of an important team as a respiratory therapist. "Reid doctors and nurses truly value our opinion, and I feel heard when I voice any concerns or ideas."

Meyers and husband, Justin, live in Eaton and have two children - Braxton, 6, and Rilynn, 4. She and her husband like to spend time with archery when they can.

"I feel I can make a positive impact in patients' lives in a friendly environment."