Right
beside
you.
March Reid Health Ambassador 'excels in enthusiasm'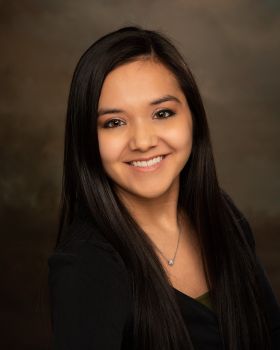 The March Reid Health Ambassador excels in enthusiasm and brings a "fabulous get-it-done" attitude to the Corporate Compliance and Internal Audit department.
Jessica McCurdy, Reid Health Physician Associates Compliance Auditor, stepped up to fill multiple roles when two key employees left the department, while also moving into a new role herself. "Sometimes she has been volunteered for department duties by her coworkers, but most times she jumps in before having to be asked," wrote one nominator. Another said the department would be like a puzzle missing pieces without her.
"Jessica excels in her enthusiasm for doing an excellent job and takes pride in a job well done," said another nominator.
McCurdy joined the Reid Health team almost nine years ago, starting in Food & Nutrition Services. She moved to Cardiology after a year and has been in Compliance for the past four. A native of Richmond, she has an Associate's Degree in office administration, and is also has Certified Professional Coder (CPC) and Certified Outpatient Coding (COC) certificates.
She and her husband, Chad, live on five acres near Richmond, with sons Carter, 3, and Landon, 7. She likes to garden and grows various fruits and vegetables, including green beans, green peppers, watermelon, strawberries, pears and apples. She is also a musician, songwriter and singer who plays various instruments including guitar and piano. She's a fan of all types of music, especially from the 1960s, jazz and metal – and she has also trained for opera. She was in a metal band in high school.
The family stays busy with school activities and also tries to participate in Autocross when they can.
"I have always enjoyed working at Reid because my coworkers are great people to be around," McCurdy said. "I feel as though everyone has played a key role in my success here and has pushed me to better myself."