Right
beside
you.
June Ambassador serves up courtesy in Reid Health Café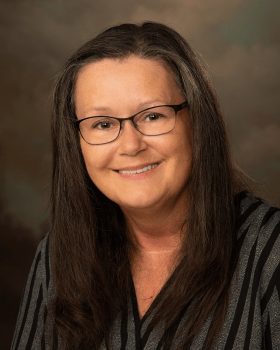 Joyce Abrams
The June Reid Health Ambassador is a "breath of fresh air" who serves as a role model for others in her busy department, according to her nominators.
Joyce Abrams, Food & Nutrition Services, is most widely known as one of the people checking out food purchases for staff and visitors. "I love to see Joyce at the register," wrote one staff nominator. "She always has a big smile on her face."
Another notes "she handles very busy lines in the café with courtesy, grace and speed. Her helpful tone of voice makes everyone comfortable coming to her station."

Abrams joined the team almost three years ago, bringing many years of customer service experience in roles ranging from stores to schools. Among her past positions were as cashier in several places including grocery stores, a drug store and Rose Hamilton School. "That's why I'm so comfortable in my job," she says. "And I like being around people."

The Richmond native is a 1974 graduate of Richmond High School. She also took some accounting classes in college, long before she knew she would be dealing with so much change-making and numbers over the years. "I am grateful for the change dispensers on some days," she quipped.

Abrams has four children and ten grandchildren, with an 11th on the way - along with her first great-grandchild. "Family is everything," she says, noting that she spends much of her time when not at work joining grandchildren in their activities. She also likes to do yardwork and some gardening, hoping for better success this year with her tomatoes than she had last year.

She appreciates the atmosphere on the job. "My coworkers and employees at Reid bring a smile to my face!"