Right
beside
you.
July Ambassador known for dedication to patients, families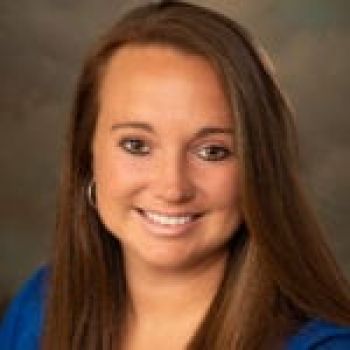 Stephanie Geeting
July 6th 2018
A nurse known for her dedication to patients and families is the July Ambassador at Reid Health.
Stephanie Geeting RN who works as a charge nurse on 5-East was cited by coworkers and nominators as a caregiver who "doesn't stop until the patient gets exactly what they need." Another said Geeting puts her patients at ease with her easy-going nature and excellent clinical skills. A family member of a hospice patient noted how tenderly she provided care and her "patience and concern" for the patient's children. "We always had our questions answered and our concerns met" the family member wrote.
Geeting has been on the Reid Health team for almost six years. She is a native of Winchester where she still lives with Rylin her miniature Australian shepherd and Tipsy a rat terrier-pom mix.
"I like caring for people. I like putting others before myself – it drives me to be better" Geeting says. Geeting and her mother Nancy both were in nursing school at about the same time. Nancy Geeting recently became a Nurse Practitioner and joined the Reid Health Hospitalist team. Stephanie is also working towards her NP degree.
"We also have a cousin who is a nurse practitioner" she said. Stephanie was junior in high school when she firmed up her plans to go into nursing. "I originally thought I wanted to be an orthopedic surgeon. I knew I wanted to do something in the medical field but wasn't 100 percent it would be nursing. I made the decision my junior year."
When not illustrating the CARE principles at Reid she finds time to be an assistant coach to the Richmond High School girls' basketball team. She also loves to travel just recently returning from a trip to the Smoky Mountains in Tennessee.
"I enjoy working at Reid because of the people I work with" she said. "All staff and managers have made me feel supported since my very first day on the job."