July Ambassador 'embodies the culture of Reid'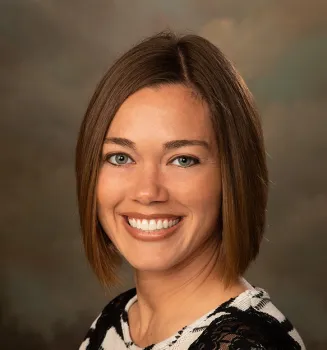 Annie Casebolt, Emergency Clerk,
Connersville Emergency Services
July 9, 2021 -- When Fayette Regional Health System closed two years ago, Annie Casebolt, a 16-year veteran of the organization, immediately applied at Reid Health.

"Reid was always in the back of my mind, but my kids go to school here and it was easier to stay working in town due to afterschool childcare," the Connersville resident said.

"It couldn't have worked out better when Reid took over. It was a huge blessing for not only the community but me and my family."
Her co-workers feel much the same way about Casebolt, Reid's July Ambassador.
"Annie is friendly to everyone she encounters, always has a positive outlook, and is upbeat and enthusiastic in her role," one nominator wrote about the emergency clerk who works in Reid's Connersville Emergency Services department.
"If she's not at the desk answering calls, she's up assisting the nurses, checking on our patients, cleaning rooms. We are so lucky to have her on this team!"
Others raved about Casebolt's kindness and reliability, especially in tough situations.
"We love Annie's calm demeanor in a crisis and her ability to manage multiple issues at once," another co-worker said. "She keeps us organized and on track when things get chaotic and does all of this while remaining friendly and smiling. She embodies the culture of Reid."
A native of Wichita, Kan., Casebolt grew up in Connersville. She and her husband, Chris, have five children (Dillon, Hayley, Danica, Finley, and Malania) and one grandbaby (Leland).
Casebolt describes herself as a homebody who enjoys rollerblading on the Cardinal Greenway, cooking, "piddling in my garden," and spending time with her family.
Over the past two years, she's found a good fit in being part of the Reid team.
"I appreciate knowing I am appreciated here, not only by the patients but by my co-workers, bosses, all the way up to the top," Casebolt said.
"Reid holds us to high standards, and I like that. I like knowing upfront what is expected and living up to that. We have a firsthand impact on a person's life by caring for them, and the most important thing for us is to do everything in our power to help them."