Right
beside
you.
January Ambassador plays key role in her 'pharm fam'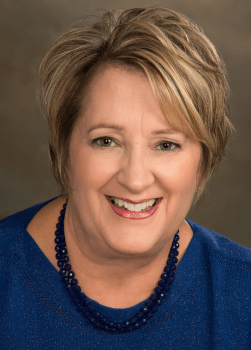 Cathy Sherer
The January Reid Health Ambassador sees her department as her "second home" where she dubs her coworkers her "pharm fam."
Cathy Sherer, Office Coordinator for the Reid Health Pharmacy, is known for a kind heart, her enthusiasm - and for being a great party planner for get-togethers and to celebrate retirements and birthdays. "She makes sure our work morale stays positive and we enjoy our teammates in the pharmacy. She keeps us glued together," wrote one nominator.

"She is a true patient advocate," said another. "Cathy embodies the Ambassador award."

Sherer has worked in the department for all of her 24 years at Reid. The Richmond resident began as a pharmacy technician, then became office assistant before taking on the role of office coordinator. Besides serving as the social planner for the department, she also sometimes represents the pharmacy at events and health fairs.

The Centerville High School graduate lives in Richmond with her husband, Mike, who works at Schroeder Tennis Center in Tipp City, Ohio. They have two children - Helena Fleenor, who lives in Westfield, Ind., with husband Doug; and Colin Sherer, who lives in Milwaukee.

When not doing "whatever is needed" in the pharmacy, she likes to repurpose things, as when she recently took an old desk and turned it into two night stands. The Sherers also like to take beach vacations. They are major Indiana University fans. Both children attended IU.

Her family has a long history with Reid. Her mother, Marilyn Uhte, worked 27 years before retiring from the business office. Her sister, Jennifer Torbeck, works in the Family Birthing Center and is also a former Ambassador.

Sherer enjoys '70s music, yard work and baking. But her "main hobby" is spending time with granddaughter Charlee Fleenor, who is one and a half. "I find every excuse I can to be with her."
She takes great pride in serving on the Reid Health team. "I feel like it's my second home, and the employees are my second family. I am proud to work here because when you hear or see news about what Reid does in the community, it just makes me proud. I think, 'oh, yes, that's my family.' "