Right
beside
you.
January Ambassador known for exceptional care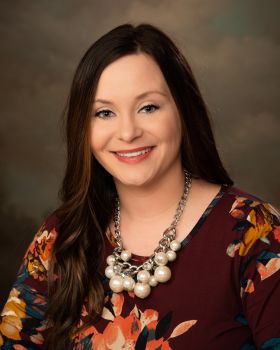 Chelsey Fledderjohn
The January Reid Health Ambassador has in the past helped patients with their health care needs. Now she helps with their financial needs.
Chelsey Fledderjohn, supervisor of Patient Benefit Specialists in Patient Financial Services, says the work is different but the goal is always the same – helping people when they need it. "There's always someone willing to help you," said the Arcanum, Ohio, resident. She has been on the Reid Health team for almost five years, starting in patient care and transitioning to the financial side about a year and a half ago.
One nominator notes how Fledderjohn's goal is the same as if she were still involved in direct patient care. "Chelsey truly cares about ensuring each patient that comes to Patient Financial Services has an exceptional experience." Said another: "She is the type of person who makes our organization a better place to be."
Another nominator said "her professionalism and passion for customer service is second to none."
Fledderjohn is an Ohio native who grew up in New Madison and now lives not too far away in a rural area near Arcanum. She started at Reid Health as a Patient Care Technician before moving to registration and then to her current department. Before Reid Health, she worked in patient care at a retirement home in Greenville. Her husband, Kyle, works in the landscaping business in Greenville. They have two children: Kaysen, who is 2 and ½, and Camren, who just turned seven months.
When not working, she and Kyle spend most of their time caring for and in activities with their kids, including a recent outing for Kaysen to a "monster truck" event. She loves the atmosphere at Reid Health.
"I like being able to help people, and I'm still helping them – just in a different way," she said of the switch from bedside care to meeting financial needs. "I really like working at Reid Health. I like what it stands for, and there's always someone willing to help you."