Get to know Reid Health's new Chief of Staff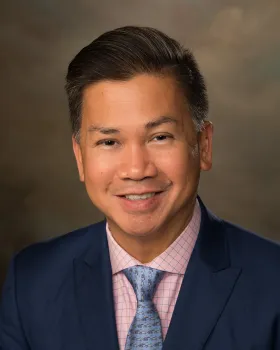 Joseph Clemente, M.D., new chief of staff
Jan. 1, 2021 -- Joseph Clemente, M.D., is taking over as the new chief of the medical staff at Reid Health, beginning a two-year term now that Jennifer Bales, M.D., has finished her time in the position.
"My goal is to continue the strong history of staff and administration dialogue and collegial work that Dr. Bales started," Dr. Clemente said. "Even with the difficulties of the pandemic, I know our medical staff has never been more interested, involved and integrated into the Reid system as they are now.
"We, as medical providers, have an active voice in the future of Reid. It is our duty to participate in medical staff work."
Born in Manila, Philippines, Dr. Clemente immigrated to the United States in 1977 at the age of 5. He grew up in Richmond, attending Westview Elementary and Dennis Middle School before graduating from Richmond High in 1989.
Dr. Clemente joined Reid Health in 2001 as a private practice OB-GYN physician as part of GYN, Ltd. He then moved to Reid OB-GYN in 2015.
In addition to serving as vice chief of staff for the past two years, Dr. Clemente previously has been the vice chief and chief of the OB-GYN section, chair of the Credentials Committee and a member of the Medical Care Evaluation Committee.
He is a current member of the ROSE Surgical Value Analysis Committee, Physician Engagement and Resilience Committee, Network Operating Council Quality Committee, and Leadership Council. He also received the Resident Physician Teaching Award in 2018.
Dr. Clemente attends St. Elizabeth Ann Seton Parish and is a past member of the Seton Catholic Schools Board of Directors. He has been a fellow of the American Board of Obstetricians and Gynecologists since 2004.
Married for 15 years to Jules Clemente, a physical therapist at Reid, the couple live in Richmond with their twin daughters.