Food Rescue is a win-win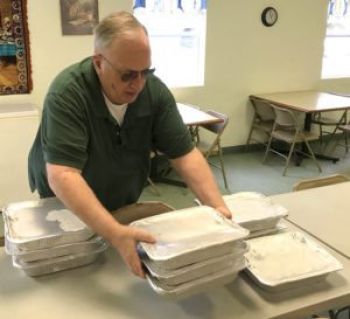 Guy Guthrie with Christian Charities prepares to sort food donated by Reid Health after it was delivered to Circle U in Richmond.
November 3rd 2017
Program's first year reduces waste for Reid Health provides meals for hundreds
When someone comes to a food pantry for a hot meal it's not often they would expect lamb chops or lemon-honey-garlic chicken as their dining choices.
Thanks to an ongoing food rescue program that depends heavily on Reid Health lamb chops and the special chicken entrée were recently options for about a hundred people at Circle U in Richmond. Just over a year after it was launched by regional ministry Christian Charities the program has fed hundreds of people and kept thousands of pounds of food from being wasted.
And with Reid Health involved diners are getting healthier and more varied choices as a result said Guy Guthrie with Christian Charities and one of the volunteers behind the success of the growing program.
Guthrie connected with Kris Ankeny director of Food & Nutrition Services at Reid Health to get the program going in September 2016. The ministry provided a freezer and the Reid team began stocking it with leftover food Ankeny said. The impact was almost immediate especially for Circle U.
"Food rescue comes two to three times a week to pick up the food" Ankeny said noting that only food that was not served in the café or was only served from behind a "sneeze guard" is rescued. When it is food from special events such as the October BRAvo! dinner that included the lamb chops only food that did not get placed on the buffet is donated.
Reducing Waste
Saving and donating the food has helped Reid Health identify and reduce food waste – and expense. Though that has reduced the amount of food donated Guthrie said he is glad it produced a positive for Reid while at the same time still providing enough food to feed at least 100 people each week.
It also helps that other restaurants and organizations have started to donate making it possible for the program to continue to grow and serve more people. Guthrie said the reductions from what Reid Health supplies has been made up by others getting involved including places like Ahaus Tool Earlham College and the Fourth Floor Blues Club after special events. Reid Health even with its reduction of waste is still the single largest contributor.
Ankeny said the program is "a great collaboration. All the Food and Nutrition Services staff feel really good about it because the food is feeding needy people rather than going down the garbage disposal" Ankeny said.
The food is delivered to Circle U by taxi where it is kept frozen until served or provided to other organizations. Guthrie estimates that they still collect 100 pounds of food a week. The Reid food mostly provides a weekly hot meal at Circle U. It has also benefited other community organization outreach such as the Salvation Army Horizon House area food banks and a meal program managed by a group of churches in Connersville.
Guthrie noted his organization had already been collecting some leftover items from local schools so the school program was rolled under the umbrella of the new Food Rescue. Thanks to grant support from Reid Health Community Benefit to buy a freezer trailer the ministry is able to do even more with these leftovers and others they pick up from other places.
One example is the "Milk Man" rescue program in partnership with the school systems. With the portable freezer Christian Ministries is able to collect milk cartons from the schools before holiday breaks and at the end of the school year and distribute the milk to programs in the area – milk that would have been thrown away otherwise.
"Last year we were able to collect save and provide more than 15000 milk servings" he said.
Starving 'Big Bertha'
The ongoing meal rescues at Richmond High School has also helped put "Big Bertha" on a diet – she's the food grinder that was fed all the leftover meals in the past.
Also thanks to the partnership with Reid Health Community Benefit Guthrie said the ministry is able to provide emergency packaged meals through Circle U and other organizations using microwavable food trays provided by Reid. These trays using donated food are sometimes provided to homeless shelters or other agencies who help people in need. One agency for example uses a freezer that the ministry provided to keep these available for people who can take one if they don't have food at home and increase the chance they will have a good meal.
With Reid Health's and other community support the Food Rescue program is able to reach hundreds of needy people every month for less than $3000 a year in expenses. The donated food has also allowed Circle U to expand its efforts in other ways with its non-perishable food pantry.
He also knows there should be plenty of food still out there to rescue. He's more than willing to facilitate new donors. "We will provide the freezer and we will schedule a pick up for leftover food" he said. "All it takes is for someone to ask."
To arrange to donate to Food Rescue contact:
Guy Guthrie Christian Charities – (765) 962-7707.
Eric Weiss Circle U – (765) 993-5073.