Right
beside
you.
First baby waits until second day of year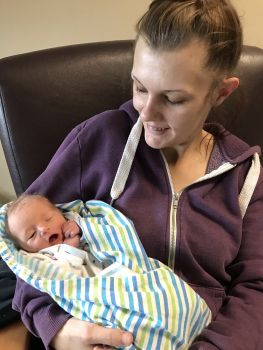 Kylie Thornburg and Daxtyn
The day after giving birth to the Reid Health New Year's Baby for 2019, Kylie Thornburg of Richmond said one thing is clear – she's going to need a home with two bathrooms.
"I'm not sharing a bathroom with all these boys," she quipped as she held Daxtyn Cain Johnson, her fourth child and third son. Daxtyn was born at 1:26 p.m. Wednesday, Jan. 2, weighing in at just over five pounds and ten days from his due date. Daxtyn has three older brothers and a sister. Thornburg said she had no idea he would be the first baby of the year, assuming someone would have delivered on New Year's Day – but the first baby at Reid Health came on Jan. 1 only twice in the past six years.
Though another mother was in labor and had arrived before she did, Daxtyn was born first after only a few hours of labor. "I had no idea," Thornburg said. "I can't believe he was first." Another mom delivered on New Year's Eve.
Daxtyn is Thornburg's fourth and his dad, Phillip Johnson's, third child. Her daughter Jaelyn is eight, son Jordyn is six and Drake is two. Grayson, a half-brother, is three.
"I'm just happy Daxtyn's here and he's healthy," Thornburg said. She came over to the Reid Health Family Birthing Center after a regular checkup at Reid OB/GYN found she was ready to deliver. "He came out with perfect complexion and perfect hair and perfect everything."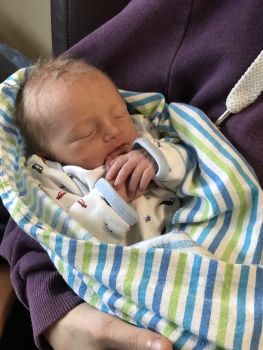 First baby waits until second day of year