First baby of 2021 arrives well ahead of her due date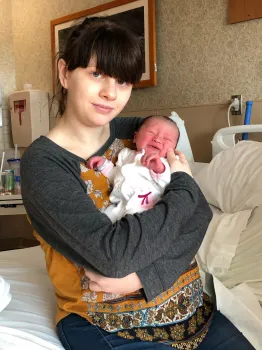 Christina Sparkman and baby Aurora
Jan. 2, 2021 -- It didn't hit Christina Sparkman until a few hours after she had been admitted on New Year's Eve that she might end up having Reid Health's first baby of 2021.
It wasn't supposed to be that way. Sparkman, of Richmond, wasn't due to give birth until Jan. 18, but she ended up being admitted after a doctor's appointment on New Year's Eve morning led to concerns about the baby's health.
Instead of going home as had been the original plan, Sparkman was taken to the Family Birthing Center. After a few hours, it began to dawn on her that she might have a New Year's baby and she held out hope that things would work out that way.
Sparkman got her wish when her labor was induced the next morning. After about five hours, Aurora arrived healthy at 1:06 p.m. on New Year's Day, 20 inches long and weighing 7 pounds, 7.9 ounces. This is Sparkman's first child.
"It feels like it's come to me naturally," she said of the motherhood experience so far. "It's magical."