Right
beside
you.
Drug 'take-back' kiosk available at Reid Health main campus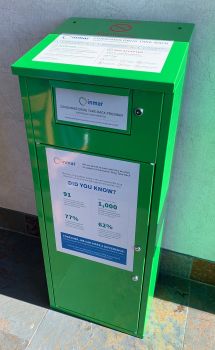 Now, Reid Health has established a safe and easy way to dispose of them. A drug "take-back" kiosk is available on the main concourse of the hospital campus at 1100 Reid Parkway.
"We wanted another, more convenient option for disposing of unwanted medications from both Reid Health staff and the general public," said Brad Hester, director of Reid Pharmacy.
Jay Bhavsar, D.O., a second year resident in the Family Medicine Residency Program, was involved in establishing the kiosk. "Having a disposal kiosk helps protect not only ourselves, but our children our families and our loves ones – and the community as a whole," he said.
The kiosk is available for dropping off unused or expired prescription medication, unused or expired over-the-counter medications and pet medications. It is not for disposal of sharps or syringes, which should be disposed of in specially designed sharps containers. On the Reid Health campus, they can be found in the area of "Triage 1" in the Emergency Department.
Hester said the kiosk is "literally as easy as dropping a letter off at a post office mail receptacle." Before this service was made available, medication drop-offs were offered in a couple of other locations in the region and during drug take-back events once or twice a year with the help of the Richmond Police Department.
Having a safe way to dispose of unused medicines removes them from the waste stream and can help prevent children from coming into contact with dangerous medications or the abuse of prescription drugs found in the home. Nationally, 62 percent of teens who admit taking medication for non-medical reasons say they get the drugs from medicine cabinets in their homes.
The kiosk will be monitored by the Reid Health Pharmacy and is in a secure location under camera surveillance.