COVID-19 surge keeping hospital at 'critical' bed status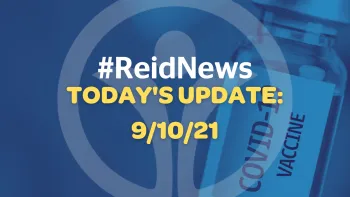 Sept. 10, 2021 -- For weeks now, a surge in COVID-19 cases has kept Reid Health Hospital on "critical" bed status, even as overflow areas have been set up to create room for more patients.
The health system finds itself in a similar situation as it did in the late fall/early winter of last year during a previous wave of the pandemic. Making matters worse this time around is the severity of patients' illness.
The average length of stay now is longer because patients are sicker. The hospital often is admitting more people per day than are being discharged, creating the need for overflow areas that also have been filling up.
Hospital staffing resources have been stretched thin as a result of the Delta variant-fueled surge. To help, RNs who may have transitioned to other roles in the organization have been asked to return to clinical roles. However, some positions -- such as those in the Critical Care Unit -- require highly specialized skillsets that not every clinical staff member has.
Today's COVID-19 stats
Patients in containment areas: 72
Number of those patients who are unvaccinated: 60 (83.3%)
COVID-19 patients in the ICU: 12
Number of those patients who are unvaccinated: 10 (83.3%)
COVID-19 patients on ventilators: 11
Number of those patients who are unvaccinated: 9 (81.8%)
Tests submitted since last update: 421
Lab-confirmed positives since last update: 82 (19.5% positivity rate)
Suspected COVID-19 admissions in the past 24 hours: 19
Reid Health serves an eight-county area, including Wayne, Randolph, Henry, Union, Fayette, and Franklin counties in Indiana and Darke and Preble counties in Ohio. The statistics above represent patients from throughout the service area.
Life on the front line
Hear from Erin Suttman, Hospitalist NP, about the bed shortage at Reid Health Hospital and its effect on patients and staff.
Key reminders
You should never delay care. Previous surges have seen patients put off necessary care for emergent issues such as chest pain, stroke symptoms, appendicitis, and even symptoms of cancer. Delaying care can have life-altering consequences.
COVID-19 vaccines are free. They are safe. Make an informed decision by consulting sites such as the CDC and FDA.
Indiana residents can find vaccination sites and schedule an appointment by going to ourshot.in.gov. Ohio residents should use gettheshot.coronavirus.ohio.gov.
Since Reid's COVID-19 hotline was established on Aug. 26, nearly 3,000 community members have taken advantage of the service. Hotline staff can assist with scheduling a test, receiving test results, and seeking clinical advice, including about monoclonal antibody infusions. The hotline is available 8 a.m.-8 p.m. seven days a week by calling (765) 965-4200.
Before you come to a Reid Health site to see a loved one or accompany them to an appointment, be sure to check out our latest visitor policy and screening procedures.
Surgical masks are required in all Reid Health facilities. Cloth masks are not acceptable. Reid will provide you with a surgical mask upon entry if needed.