Right
beside
you.
Cambridge City Family Medicine to get new, larger home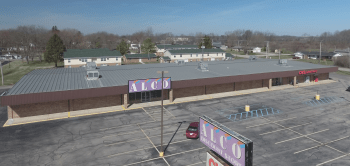 The future home for Cambridge City Family Medicine.
Reid Health's purchase of a long empty space in Cambridge City will eventually be the new home of a longtime community physician practice, allowing it to expand to better meet the health care needs of the area.
The health system recently purchased what's known as the Alco and CVS building at 1122 South State Road 1. "We are excited," says James Bertsch, D.O., who has practiced in the community more than 40 years and will relocate Cambridge City Family Medicine to the space sometime in 2020.
"The existing offices, in one of the city's historic properties, couldn't handle all the things the practice will be in five or ten years," he said.
Craig Kinyon, Reid Health President/CEO, said the expansion reflects the health system's commitment to providing easily accessible care to the region. "This will allow us to meet the growing demand and add services to make it possible for patients to remain in their hometown for care."
The new offices will expand to 18 patient rooms from the current seven, be able to add X-ray and lab services, and also have bays for the Reid Health Ambulance Service now stationed in Cambridge. There will also be room to add more providers, up to six from the two now – Dr. Bertsch and Ramona Orschell, NP.
Rohit Bawa, M.D., who chairs the Reid Health Physician Associates (RHPA) Network Operations Council, said the growing physician network prioritizes providing services in the many regional communities the health system serves. "And part of that is always ensuring we also offer as many services and technologies as we can in these communities."
Kelly Beall, Vice President/Executive Director of RHPA, said her team is excited for what the expansion brings to the Cambridge City area. "The added space will allow for additional services not available at the current location, including a laboratory and other specialists similar to what we offer in other communities."
The 27,000 square foot building houses CVS Pharmacy, which will remain in its space, Reid Health officials said. Reid Health's remodel will use about 18,000 square feet.
"It's a smart move," Dr. Bertsch said, referring to an increasing demand for health care services in the Cambridge City area.