Right
beside
you.
Café at Twelve Hundred nabs 'Gold Noodle Award' in Cambridge City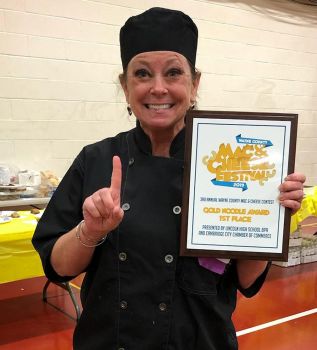 Leslie Warner with the Gold Noodle Award
The Reid Health Café at Twelve Hundred was the first place 2019 Gold Noodle Award winner at Wayne County Mac & Cheese Contest for an aged white cheddar mac and cheese dish with bacon crumbled on top.
The fund-raiser for the Lincoln High School Business Professionals of America (BPA) was launched by the BPA and the Cambridge City Chamber of Commerce in 2017. The event was held in the Golay Center with about 10 restaurants competing.
This is the first year that the Café at Twelve Hundred placed, said Dugan Wetzel, Chef and Culinary Coordinator for Reid Health, though the café has entered all three years. "The first year we entered a pulled pork mac and cheese topped with smoke breadcrumbs and jalapeno salt. The second year we entered a four-cheese mac and cheese," Wetzel said.
Leslie Warner, one of Reid Health's caterers, accepted the award on behalf of the café and catering department.