Breast Center earns accreditation from American College of Surgeons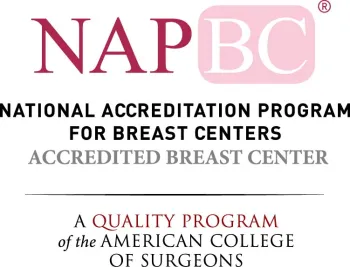 March 25, 2021 -- The Reid Health Breast Center has earned its second three-year accreditation from the National Accreditation Program for Breast Centers, a quality program administered by the American College of Surgeons.
To earn the designation, a breast center must meet NAPBC standards for a center's leadership, clinical services, research, community outreach, professional education, and quality improvement for patients. A site visit every three years is included in the process.
"Breast disease impacts women and families at all stages of life," said Joshua French, M.D., general surgeon and Chair of Reid Health's Breast Program Committee. "This accreditation confirms our focus on excellence as yet another example of Reid's commitment to the highest quality care."
Accreditation by the NAPBC is given to those centers that strive to provide the best possible care to patients with breast cancer. Patients at the Reid Health Breast Center have access to:
Comprehensive care, including a full range of state-of-the-art services,
A multidisciplinary team approach to coordinate the best treatment options, and
Information about ongoing clinical trials and new treatment options.
"We're very proud of the hard work provided by the Reid Health Breast Center team," said Gene Ditullio, Director of Radiology Services for Reid Health. "This accreditation is a reflection of their dedication to providing high-quality care to the communities that we serve."
The NAPBC represents a group of national, professional organizations dedicated to quality of care for patients with diseases of the breast. Its board membership includes professionals from more than 20 national organizations that represent the full spectrum of breast care. For more information, visit facs.org/quality-programs/napbc.

"Breast disease impacts women and families at all stages of life. This accreditation confirms our focus on excellence as yet another example of Reid's commitment to the highest quality care." -- Joshua French, M.D., general surgeon and Chair of Reid Health's Breast Program Committee