Right
beside
you.
Auxiliary donates record $275,000 to Reid Health Foundation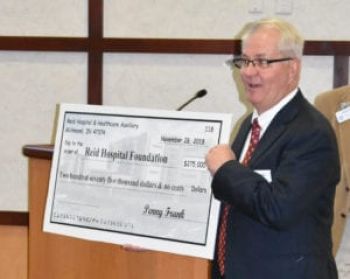 Randy Kirk Reid Health Vice President/Foundation President displays the symbolic "check" for the annual Auxiliary donation.
December 3rd 2018
Reid Health Auxiliary's recent contribution to Reid Health Foundation of $275000 was the Auxiliary's largest ever annual donation thanks to successful fundraising by the Reid Health Auxiliary volunteers.
The Auxiliary raises funds for the Foundation year-round with special sales and from proceeds in the Ginkgo Boutique the hospital gift shop. With this year's donation the Auxiliary has provided more than $3.5 million to the Foundation since its formation in 1948. The funds are used to support patient care at Reid Health including funding technology and equipment needs supported by the Foundation. Past donations have funded for example the green roof installed over a portion of the main campus the grand piano in the atrium pediatric therapy equipment chemotherapy chairs and defibrillators.
"Our Auxiliary stands out in the nation as one of the most active and successful in support of the health system's mission" said Randy Kirk Reid Health Vice President/Foundation President. "The dollar donations are always amazing yet they do not reflect the truly priceless value of the thousands of volunteer hours also donated every year by our generous volunteers."
New officers for 2019 were also selected in the annual gathering at which the donation is celebrated. They include John Herig president; Electa Berk president-elect; David Garman past president; Virginia Thompson treasurer; Elsie Bragg assistant treasurer; Max Bennett recording secretary; Pat Shuck assistant recording secretary; and Patsy Goble corresponding secretary.
Auxiliary volunteers donate time to departments across the health system. Approximately 300 volunteers are active in various departments.
For information about volunteering at Reid Health visit: https://www.reidhealth.org/careers/volunteer-at-reid/