Right
beside
you.
Teen brothers with hearing aids: 'If you need them, get them'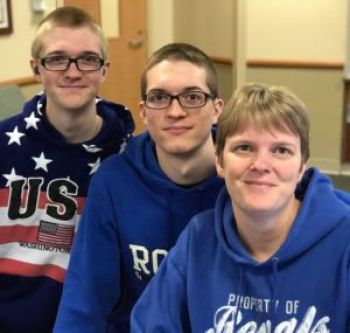 From left: Nikolas Briggs and Melody Uhler.
When Briggs Uhler was about three his mother Melody noticed he seemed to be ignoring her or asking her to repeat things. It was enough for her to suspect something could be wrong.
Tests soon confirmed a hearing loss that was corrected with hearing aids. When his younger brother Nikolas was a toddler he too showed signs he was having trouble hearing. Today Briggs is a senior and Nikolas is a freshman at Eastern Hancock High School in Hancock County. Both have had hearing aids since they were small and both see them as no big deal. "Most people don't even notice them" says Briggs. "If you need them get them. They will make a world of difference."
Melody Uhler said she knows of no such hearing issues on either side of the family and has no absolute explanation for why hearing loss affected both of her sons. "It's hard to find out anything is wrong with your child" she recalls. Thanks to early diagnosis and regular treatment and hearing aid fittings Briggs and Nikolas have grown up to be active teens who don't think much about it.
In fact when Nikolas was little and before his diagnosis she remembers him asking when he'd get his hearing aids like his big brother. The boys have been in the care of Amber Wolsiefer Au. D. audiologist with Reid Hearing Center in Richmond for the past four years. They found her after Dusty Uhler's job brought them from Ohio to Indiana. At first they had their follow-up visits in Indianapolis until they connected with Dr. Wolsiefer who specializes in pediatric audiology.
Dr. Wolsiefer said their hearing loss called childhood onset sensorineural hearing loss is of unknown cause though is possibly genetic. She said signs of hearing loss in toddlers can include several things including:
Turning TVs up loud
Saying "what?" often
Tilting the head forward when trying to hear
Seeming to not pay attention
Loud talking
Looking intently when someone is speaking to them
Testing is done based on the age of the child Dr. Wolsiefer said. "Older children can sometimes test in the same ways as adults. Younger children need more tools for testing which usually come in the form of toys used to produce a conditioned response to a sound."
Younger children may be given blocks or toys to put in a bucket each time they hear a beep for example. Infants and younger children can be tested while sleeping she said.
Dr. Wolsiefer said the prognosis for the Uhler teens is good. "Hopefully with continued treatment and the use of hearing aids their hearing loss will remain stable and treatable. Their hearing has been stable since I started seeing them so I have no reason to believe it will change."
Hearing aid technologies and treatments also continue to improve. Dr. Wolsiefer noted the importance of diagnosing a loss in children as quickly as possible. "The sooner we treat hearing loss the better a child will be not only in terms of hearing but also in terms of developing speech and language at a rate commensurate with their normal hearing peers. There is a critical language learning period that closes around age 3."
"The sooner we treat hearing loss the better a child will be not only in terms of hearing but also in terms of developing speech and language." — Amber Wolsiefer Au.D.
About 1.5 out of every 1000 newborns has a hearing loss she said. Genetic losses make up about half of all hearing loss issues in childhood.
The good news is that diagnosing and treating a hearing loss can make it minimally disruptive to a child. Says Nikolas: "If you need hearing aids don't hesitate to get them because after you try them on you'll learn that you've been missing a lot!"