Sports Performance program helps D1 soccer player on road back from ankle injury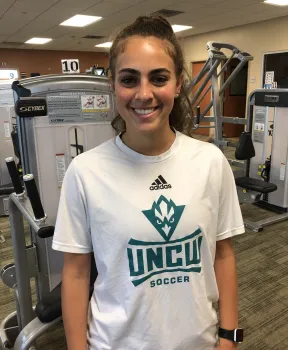 Payton VanMiddlesworth
This was not how things were supposed to go for Payton VanMiddlesworth.

After a freshman soccer season at the University of North Carolina Wilmington in which she played in 14 of her team's 17 games, COVID-19 and an ankle injury combined to rob her of her sophomore season.

But the former Richmond High School star is nearing the end of recovery from surgery and looking at the bright side of things.
"I'm glad if my ankle injury had to happen, it was at this point in time since everything was so uncertain with COVID anyway," VanMiddlesworth said. "I'm just glad everything is back on track for normal."
VanMiddlesworth had surgery on the ankle in February ("I sprained it a few too many times.") and hopes to be officially cleared soon.
"As of right now, I'm pretty much doing things as I did before the surgery," she said. "It's been a while, but I'm on the homestretch."
In the meantime, she's been using Reid Health's Sports Performance Program to get ready for her return to the soccer field. The program is designed to enhance an athlete's speed, power, strength, agility, and endurance through individualized workouts.
"Obviously, I need to work out, and this program is a lot better put together. There are more resources than anything I could do on my own," VanMiddlesworth said. "It's nice to tie together all the elements you need to be a high-performing athlete.
"Especially coming off an injury and sitting out for a while, it's so imperative that you come back fully as you were. Working at the Athletic Training Clinic has really helped me push myself and continue to make up for lost time. I'm excited to get back to college and see how I compare to what I was before and how much I've improved."
For more information about the Sports Performance Program or to sign up for sessions, call (765) 973-8057 or fill out the online request form.

"It's so imperative that you come back fully as you were. Working at the Athletic Training Clinic has really helped me push myself and continue to make up for lost time." -- Payton VanMiddlesworth