Season of miracles: Cancer patient among first in U.S. to receive new treatment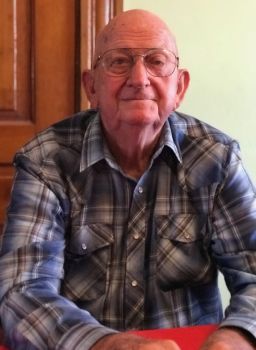 John Straszheim
When John Straszheim and his family were told by an Ohio health care system that all options were exhausted for treating his cancer, he was given three months to a year to live. The Preble County, Ohio, family had begun thinking about hospice.
But a decision to go to the nearby Reid Health Cancer Center for any remaining care proved life-saving -- thanks to what the family sees as a "miraculous" series of circumstances resulting in Straszheim becoming one of the first patients in the United States to be treated with a new immunotherapy shortly after it was approved by the Food and Drug Administration.
The 85-year-old had been dealing with a recurrence of a squamous cell carcinoma, a treatable but potentially deadly skin cancer. A growth on his cheek had spread to the nerves in his skull. He had been receiving treatments in Ohio since late last year that at first had some effect before the cancer proved more aggressive. The family was finally told all options had been exhausted.
"They said there wasn't anything else they could do," recalls Deborah Flory, the eldest daughter who cares for her parents. The devastated family completed end-of-life arrangements. Flory said her father needed new glasses, but wouldn't get them. "I don't need them," he had told her. "I'm not going to be here that long."
Various standard treatments had been tried, including chemotherapy and radiation. The cancer that began on his face had spread to nerves in his skull, where it was not responding to treatments that were having some effect on his face.
Reid Health's Sulfi Ibrahim, M.D., shared with the family about the immunotherapy medications that were showing results in trials. The medications work to enhance a patient's own immune system to fight the cancer, Dr. Ibrahim said. The doctor, Reid Health Pharmacy and Straszheim's cancer navigator Dianne Bailey had already been working on the possibility of getting the treatment for Straszheim as a trial.
Then the great news of FDA approval came. Kathy Gilliland, Reid pharmacist, worked with other team members to order the Libtayo brand and make it available from the pharmacy. Everything fell into place for Straszheim to begin treatment in October.
By a December 4 scan, his cancer was in remission.
The family was shocked – and thrilled. What a Christmas present! With the success of just three infusion treatments with cemiplimab, the family fully expects to celebrate Straszheim's 86th birthday in February.
They are convinced prayer and miracles were involved in getting them connected to Dr. Ibrahim, who they say went above and beyond on their behalf. "He has personally called us three different times," Flory said, including with the news of the December scan. Her father, who is a man of few words, is the one who talked to the doctor. When she asked what the doctor said, her father simply said "it looked good."
The next day, they saw an excited Dr. Ibrahim in person. "He said it was more than good. The cancer is in remission."
The doctor credits a podcast on immunotherapy treatments he heard while running about year ago, the timing of meeting Straszheim and his family and some quick action by the Reid Health Pharmacy to obtain the new drug to make it available with what resulted in successfully putting the disease in remission. "This was the best Christmas gift we could have ever gotten," exclaimed Flory, who lives with her parents and helps care for them. "It's a miracle." Straszheim jokes that with this and other health issues – a past heart surgery, a couple of strokes and a recent ankle injury – he's just "keeping all the doctors happy."
Dr. Ibrahim recalls that the first time he saw Straszheim, his new patient was resigned to a terminal diagnosis. ""When he saw me the first time, he had no expectations. He had already accepted the fact that there were no treatment options for that diagnosis," he recalled. Surgeries had not been successful. Chemotherapy and other treatment options either caused severe side effects or just would not be an option for a patient of his age.
A couple of other treatments were tried at first, but they caused severe reactions including a painful breakout on his skin. Straszheim had already decided he wouldn't proceed with more treatments, even as Dr. Ibrahim and the Reid cancer team worked to get the immunotherapy medicine, possibly as a trial if it had not been approved in time.
"Oncology is such a rapidly changing field," the doctor notes. As an oncologist providing community care of multiple types of cancer, he spends much of his free time researching the latest information online or listening to podcasts and programs while he runs each day and commutes to and from his practice in Richmond.
He was already aware of immunotherapy drugs and how they were proving to be great treatment options in clinical trials. The options that had been tried unsuccessfully with Straszheim were considered the current standard of care, though the standards are changing constantly, Dr. Ibrahim explains.
"There were 30 new drugs approved just last year. If you are a medical oncologist, you need to know not only the current standard of care, but also what is out there on the horizon." - Dr. Ibrahim
Dr. Ibrahim says immunotherapy is an exciting area of cancer research. It has been used successfully to fight lung cancer, and he's eager to learn more about a breast cancer therapy that is on the horizon. When he worked at another health system, he was able to treat a lung cancer patient whose prognosis wasn't good using immunotherapy in a clinical trial. "She went on the trial, and the cancer went away."
"You see amazing things now. It is historically unprecedented. So many cancers will become curable because of immunotherapy. It is completely transforming oncology and medicine as a whole."
Straszheim will continue treatments for a year. He's looking noticeably better to his family, his church family and his doctor. He hasn't yet gone ahead with new glasses; however, Flory said: "He's decided he will go ahead and get a new pair of jeans."
TOP PHOTO: Deborah Flory with her father.