Reconstructive surgery gets patient back on his feet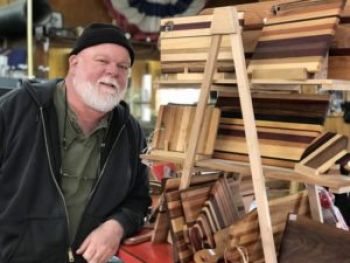 David Shannon with some of his woodwork he does at the family store Cook & Shannon Building Supply in Winchester.
A series of issues first believed to be a knee problem kept David Shannon of Winchester running to various medical specialists in sometimes frustrating efforts to find the cause of swelling in his leg and foot.
In fact he was in the process of seeking a referral to a northern Indiana city for treatment when someone suggested he see Dr. Bill Spyropoulos DPM with Reid Health.
After a couple of visits X-rays and tests to try less invasive treatments Dr. Bill was able to zero in on the problem — a breaking down of bone and cartilage known as "Charcot foot." The complication is common in patients like Shannon who have diabetes and neuropathy. Left untreated it can be as serious as leading to loss of the foot.
Since an extensive reconstructive surgery last July Shannon says his foot is much better today – though he is still dealing with some related and some unrelated issues in other joints on the same leg. "I have gotten rid of a lot of pain and I am able to walk free of pain."
Besides excellent care Shannon enjoys visits to Dr. Bill because of the personalities of the doctor and his staff. "I've been very happy with Dr. Bill" Shannon says smiling and citing their use of humor and fun. "Nobody wants to go the doctor but I actually enjoy going there and seeing him. It's not like any other doctor's office I visit."
Shannon is also pleased that he didn't have treatment or surgery in Fort Wayne or Indianapolis which were among his options though he was willing to go wherever he could find relief. He said the swelling in his leg was first thought to related to a knee issue.
Vasilios Spyropoulos DPM who goes by "Dr. Bill" said Shannon's breakdown was severe. He said the repair process involved removing bad joints and replacing them back in the correct position using temporary pins and hardware. The healing period starts with no weight bearing and takes at least 90 days to recover.
Dr. Bill notes that this complication is on the rise along with the increase in diabetes in the population; and said that Charcot foot is often misdiagnosed as conditions such as cellulitis or a blood clot.
The challenges with his foot and knee and the other complications related to his diabetes have inspired Shannon to work harder to control his blood sugar. "I monitor it more and I try to eat better. I'm a big gardener and my glucose is much better in the summer when I can eat out of the garden."