Right
beside
you.
Couple says 'I do' on Reid Health's ARU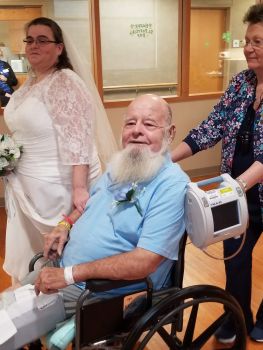 Kimberly Williams prepares to enter with her dad, Kenneth Robbins, aided by Karen Seal, RN.
Kimberly and Doug Williams of Connersville were planning a June wedding before her father's health took a turn for the worse.
Kenneth Robbins had been in the hospital almost two months with complications from diabetes, including heart and vein problems and the loss of part of one of his legs due to infection in his foot.
So with the help of family and her father's caregivers at Reid Health - they brought the wedding to the Reid Acute Rehab Unit on March 9. "We did the wedding with no rehearsal," Kimberly says. After a surprise proposal in her dad's hospital room in February, both of them soon felt they should move the wedding up almost without having to speak the words. "We looked at each other and I said 'Are you thinking what I'm thinking?' " Kimberly recalls.
They had three weeks to make it happen. Family members made silk flower arrangements. A cake was quickly ordered from a local grocery. Once they learned of the plan, Reid staff fashioned a runner from white sheets and decorated it with petals from flowers donated by another patient.
White sheets were used as tablecloths to brighten tables in the dining area where the wedding was held. Staff found paper hearts to help spruce up the tables and provided pink lemonade to go with the cake.
Family members and close friends completed the wedding party. Her younger sister's husband, who is a minister, performed the ceremony.
Karen Seal, RN, pushed Robbins down the "aisle" in a wheelchair, with Kimberly holding onto his right arm. Other patients and visitors peered out from their rooms and offered congratulations after the 15-minute ceremony was over.
Though Robbins was too sick back in February to remember the proposal, he certainly remembers the big event now that he's out of the hospital and doing somewhat better. "I could have probably rolled myself, but I don't know if I could have kept up," he recalls, chuckling as he waited for a treatment at the Reid Wound Healing Center less than two weeks later.
The wedding created a pleasant stir on the unit. "They were all really thrilled about it. Some of the staff members were in there with us. People were standing at the doors congratulating us."
The newlyweds will still have a larger reception June 1 and a honeymoon trip is planned for July. The family and the patient are thankful for Reid staff who helped them ensure father and daughter came down the aisle together. "All the nurses were as sweet as could be," Robbins says.