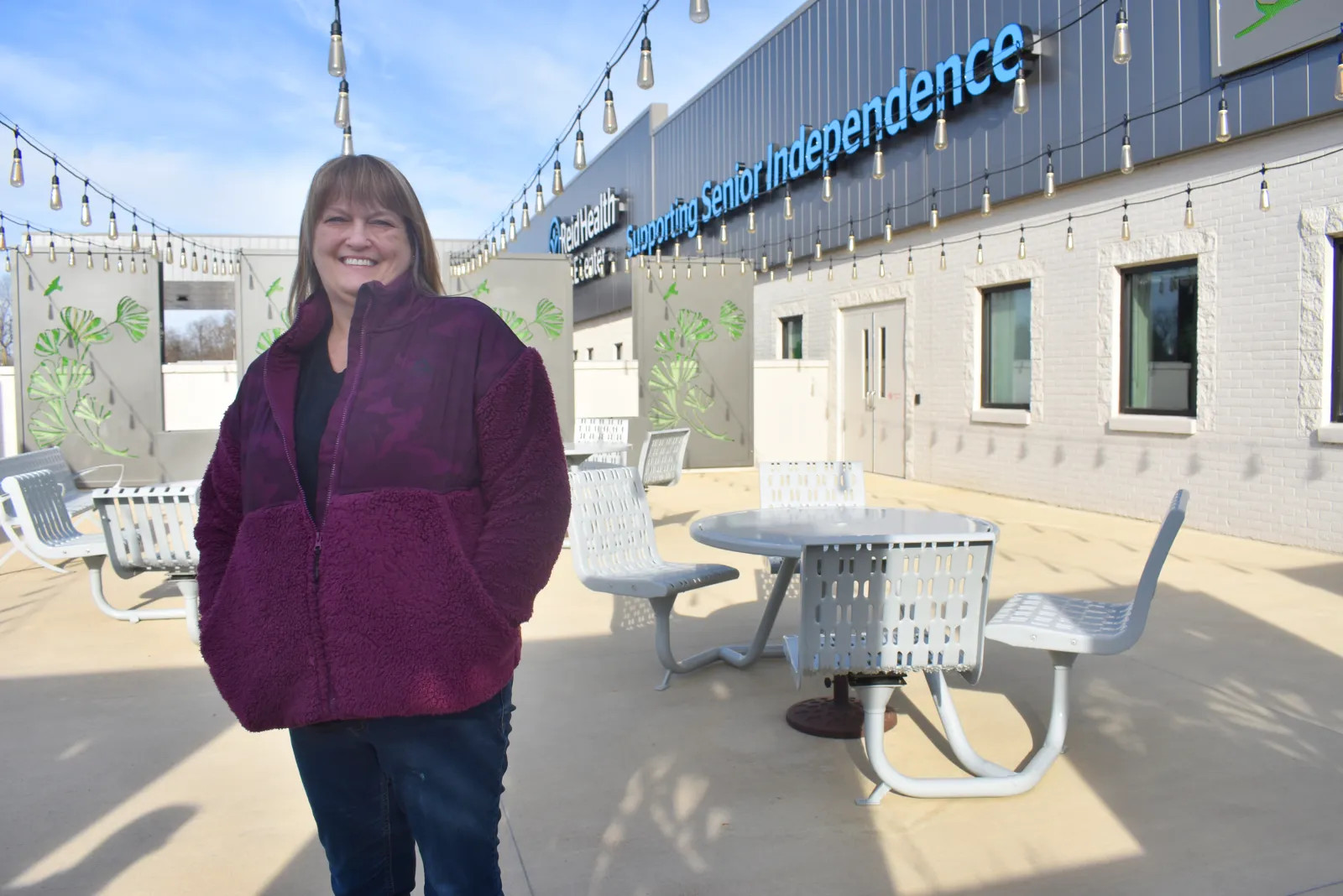 Welcome to PACE: New participant finds comfort, care she needs from senior independence program
It's not easy for Micci Dunham to try new things. Being around unfamiliar people in unfamiliar places can trigger crippling anxiety. So when her son suggested she look into Reid Health's PACE program, she was skeptical it would be a good fit for her.

Dunham has had several health issues through the years, including three strokes and four heart attacks. The lingering effects of her illnesses led to the development of depression and anxiety. They also took away her ability to drive, which created ongoing challenges with finding transportation for her various medical appointments.
PACE was a potential way to get help with all of that and more, but it took some convincing from her son to give it a try.
"He kept telling me how good he thought it would be for me and I should go check it out," Dunham said. "He got me an appointment and took me in there. I immediately liked it and couldn't wait to get started."
Reid Health PACE (Program for All-inclusive Care for the Elderly) allows seniors to maintain their independence at home while receiving medical services customized to fit their needs. Those who meet eligibility requirements and enroll in the program receive support from a team of clinical and medical professionals, including primary care providers, nurses, therapists, social workers, registered dietitians, and personal care aides.
"The PACE Center helps them organize their healthcare and helps give them a regimen. They're getting additional care that they wouldn't normally be able to get," said Dr. Jeffrey Haist, MD, of Richmond Cardiology Associates.
Dunham officially joined the program on Jan. 1 following the completion of PACE's intake process. There was a home visit, a tour of the facility at 2300 National Road W. in Richmond, and another trip to the center for a few medical tests.
PACE staff came to Dunham's home to pick her up for that final pre-enrollment visit, just as they've done for all her trips to the center and medical appointments since she enrolled in the program. The help with transportation means she no longer needs to ask her children to take time off work to take her to appointments. Now, her providers either meet her at the PACE Center or PACE staff takes her to the doctor's office.
"That's been a big relief knowing all my doctors can be right there if I need them," Dunham said.
Before joining PACE, Dunham had been thinking about making a change in her primary care provider. She no longer felt like she was getting the answers she needed for her continuing health issues. She also was seeing a case manager and a therapist at Meridian Health Services.
Today, her primary care needs are tended to by PACE staff while she still has access to her case manager and therapist from Meridian.
"Being able to keep my case manager and therapist has been a big plus," Dunham said. "They've both helped me so much, and it's made the transition to PACE so much easier."
Dunham comes to the PACE Center twice a week for lunch, snacks, some exercise, and to play games and have fun with other participants and staff. Despite her anxiety concerns, she's been able to find herself at ease with everyone at the center.
"I look forward to Tuesdays and Thursdays because I know I'm going to have fun," she said.
When first learning about PACE, the 56-year-old Dunham thought the program was meant for those who were older and had more physical and medical challenges than her. But since joining, she's found PACE to be the answer to many of the health obstacles that have complicated her life.
"I'm the youngest one and I don't require a lot of the things other participants do," Dunham said. "But they told me, 'You need us, and we need you.' And that made me feel good."
As a participant in PACE, Dunham gets her medications delivered to her home, pre-packaged for which ones should be taken when. She doesn't need to go to the pharmacy or send someone to get prescriptions filled anymore.
PACE also can help her with medical supplies or personal hygiene items she might need. They guide her in coming up with nutritional and physical goals to improve her overall health, and a nurse is on-call at all times.
"It's nice that it's all-inclusive," said Jennifer Olson, MD, of Reid Internal Medicine. "I think those seniors who live alone and who aren't ready to leave their house but who need a higher level of care would benefit from the services that PACE offers."
Dunham regularly meets with a counselor at the PACE Center, who helps her manage her depression and anxiety concerns. Dental services also are available, with Dunham being scheduled for an appointment to be fitted for dentures shortly after joining the program.
"I truly love PACE, and I can't thank my son enough for getting me involved. I can't say enough nice things about it, and I just started," Dunham said.
To learn more about Reid Health PACE, go to reidhealth.org/pace or call the center at (765) 935-8959.