Right
beside
you.
Our GEMS: Staff going the extra mile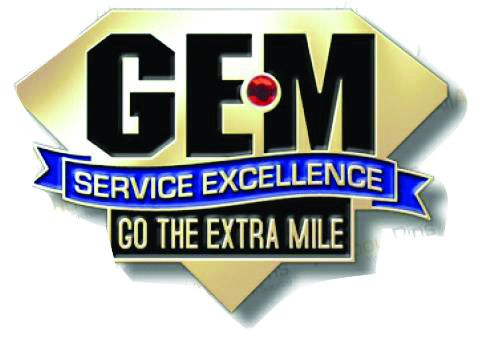 Many of our patients and families express deep appreciation for the care they or a loved one received at Reid Health. Often, they wonder how they can say "thank you" in a special way to someone who has cared so much… the one who was their GEM.
These nominations from patients and from staff become a pool of great stories that illustrate the willingness of our team members to Go the Extra Mile on behalf of patients and families. Each month, a GEM is celebrated in our ceremonies where we also celebrate employees with five or more years with us.
These are those stories.
October: Karisma B., Food & Nutrition Services
Karisma B., Food & Nutrition Services, heard that the Emergency Services team was having an extremely hectic night. So she went to the department and asked if she could take food orders for a team that had not been able to go to the cafeteria for food. "We really wanted to give her the greatest gratitude for what she did. And this is not the first time she has done it," a team member said. PHOTO, from left: Karisma B. and Chris Knight, Reid Health Vice President.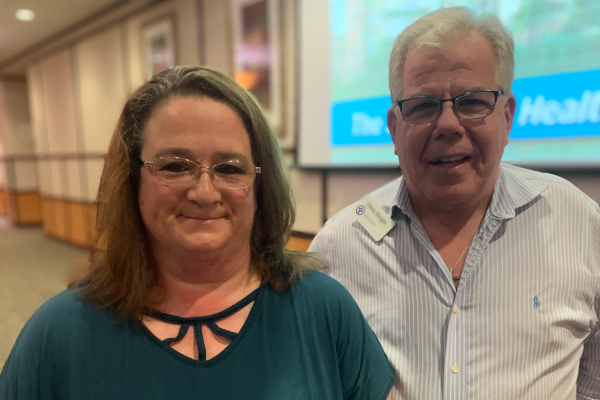 September: Emily G., Pediatric & Internal Medicine
Emily G., Medical Assistant at Reid Pediatric & Internal Medicine, noticed a child who was sick and scared at an appointment. Emily started singing to the little girl and was able to get her to sit in her lap, calming her down for the appointment. In fact, the patient didn't want to leave Emily by the end of the visit. The grandmother that brought her said she was "beyond grateful" for Emily's kindness and professionalism. PHOTO, from left: Emily G. and Kelly Beall, Reid Health Vice President.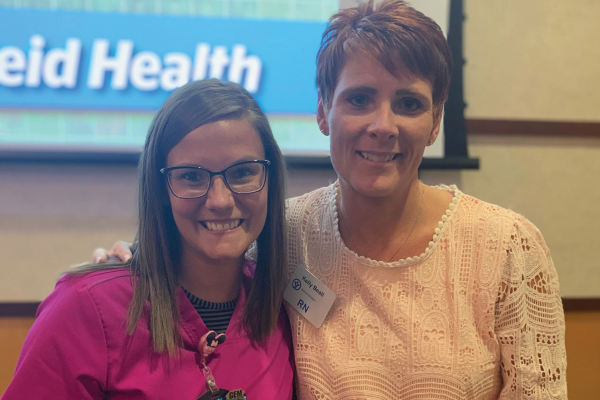 AUGUST: Josh S., Pharmacy
Josh S., Pharmacy, totaled up a pharmacy order that someone was picking up for a family member. When he shared the total of more than $160, he immediately wanted to know if that was of concern, realizing the customer - a Reid team member -- may not realize the cost. "This caring statement would have been enough to say he went the extra mile," notes the employee. "But this isn't the whole story." She shared that the family member had sent only $155, so she offered to pay the balance with her employee badge. Josh explained that wouldn't work -- but offered to pay the rest himself. "I ended up remembering extra cash I had in the office and was able to cover it. I have never met Josh, and I would have never asked for the help. He willingly offered it without hesitation." PHOTO, from left: Josh S., with Kelly Beall, Reid Health Vice President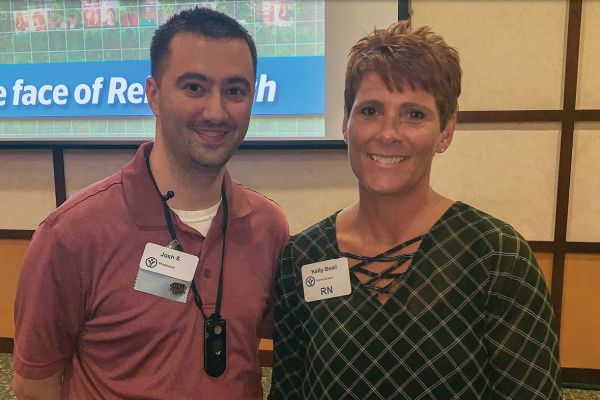 JULY: Danielle W., Family Birthing Center
Danielle W., RN on the Family Birthing Center, is the GEM winner for July - her second month in a row. She was nominated by a mother whose baby passed away before it was born. Knowing the intense desire of the mother to preserve the child's memory, Dannielle arranged to get the baby's tiny handprint on a card. In the mother's words: "Danielle blew us away. Words and even this note can never express the thanks that we will forever have for this amazing woman and nurse. Nursing school can't teach you these things - they have to be in your heart. Danielle will always be in our hearts. Thank you!" PHOTO, from left: Misti Foust-Cofield, Reid Health VP/CNO with Danielle W.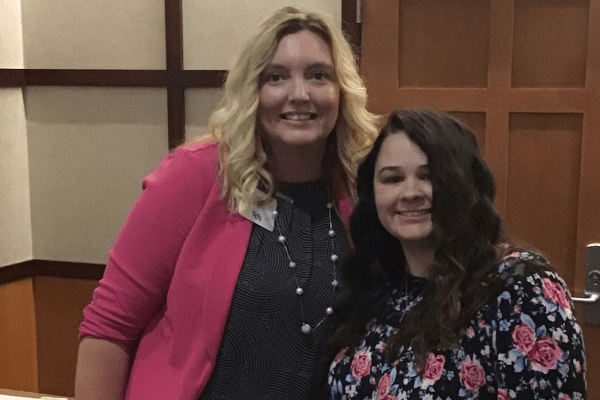 JUNE: Danielle W., Family Birthing Center
Danielle W., RN on the Family Birthing Center, "did something extraordinarily special" for a couple when their daughter was born recently. The new mom had serious complications after the birth that resulted in the patient being rushed to surgery and then spending two nights in the Critical Care Unit - where she would not be able to see her newborn. Danielle worked with her unit management, Security, Human Resources and others to make it possible to bring the baby in a secure containment unit to CCU so mom could visit a few moments with her daughter. "This was the most thoughtful act of kindness I have experienced in my entire life," said the dad. "A GEM doesn't feel like enough to recognize what she did and what it meant to our new family." PHOTO, from left: Misti Foust-Cofield, Reid Health VP/CNO with Danielle W.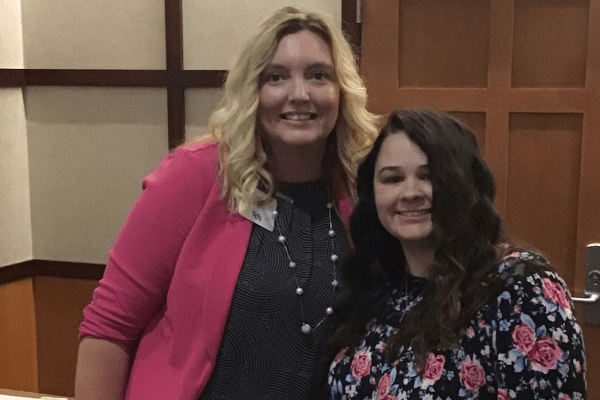 MAY: Jennifer C., Wound Healing
Jennifer C. Wound Healing Center, noticed a patient who was really ill when he was at the center for an appointment. The staff realized he needed to go to the hospital, but he could only be convinced to go by Jennifer - whom he trusted. She drove him in his van to the hospital and made sure he got checked in to the Emergency Department. She went back to the hospital later to check on the patient and give him a phone charger so he could contact his family with his cell phone. PHOTO from left: Kelly Beall, Vice President, with Jennifer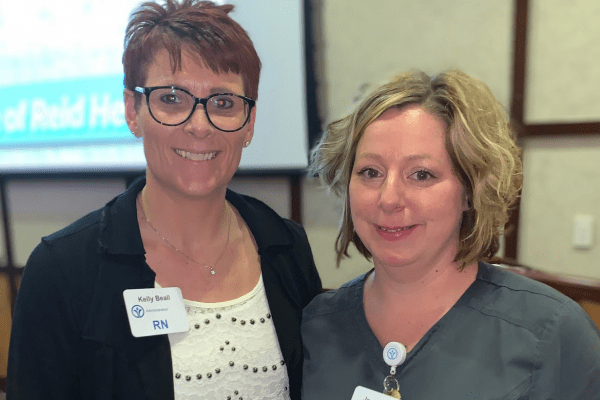 APRIL: Jeremy H., Security, & Hayley M., Patient Access Services
Jeremy H., Security, and Hayley M., Patient Access Services, became aware of a pediatric patient in the Emergency Department who was going to have to go home without her only pair of shoes and the clothes she was wearing when she arrived.
Jeremy collected donations from other team members and bought her a new pair of shoes. Hayley also went to the store and bought her some new clothes. She was thrilled with the gifts and their generosity affected the patient and staff members.
MARCH: Raegen T., 4 East
The family of a patient from Connersville who was admitted to the hospital did not realize that some of his medication needed to be brought from home. The patient had been without the needed medicine for a couple of days and it was not available through the pharmacy.
Raegen T., 4 East, was contacted as a team member who lived in the same area, and she gladly -- on short notice -- met family members in Connersville to get the medication and bring it with her on her way to work at Reid.
FEBRUARY: Brenda K., Environmental Services
Brenda K. learned that a patient while in the hospital did not have his dentures. They had been left at his apartment downtown. The staff there was unable to bring them to him, and he was being discharged to an extended care facility.
So Brenda made a trip to the apartment complex on her lunch break and got what he needed, bringing it back to his hospital room. The patient said "She went out of her way to help me, and that was so special to me."
JANUARY: Paige H., Continuum of Care
Paige H. was seeing a patient at a local nursing home and learned the patient had arrived at the facility with no clothes – he only had his hospital gown and a winter coat. So she went to the store and bought a pack of T-shirts and sweat pants and took them back so the man would have clothes to wear while at the nursing home.
Recognize a G.E.M.
Want to recognize someone who went the extra mile?